MEMORIES FROM YESTERYEAR
NOSTALGIA .......................................... MEMORIES FROM YESTERYEAR


****************************************************************************************************
*****************************************************************************************************
Remember when the family would all gather in the living room and Dad would turn on the TV as everyone crowded around? Mom would have the popcorn ready and the family would spend time together enjoying their favorite shows.Let's close our eyes and journey back to a Monday night in 1961. The popcorn is warm and so is the family fellowship.

You started the night with Cheyenne. You watched big Clint Walker take care of villain after villain. You were glued to your seat as you watched the adventures of homesteader Lucas McCain and his son Mark. Played by Chuck Conners and Johnny Crawford, the show was The Rifleman, of course.

And you enjoyed Danny Thomas. You laughed with Andy Griffith and all the wonderful folks of Mayberry.And you rounded off a great night with I've Got A Secret.

Do you rememeber these great shows and the good times?

Sweet memories.
***************************************
***************************************
Do you all remember the Hootenanny? It was the musical sensation that swept the nation in the early and middle 60's. Of course, the word Hootenanny had been around for a long time. It was just waiting to take off and it did! It was a nation-wide folk music happening.

Hootenanny is a word for a get-together for singing and playing and listening. People from Hollywood, and New York and the hills of Tennessee played and sang together. Uptown hippies and earthy country folk, college students and business men and women, young and old...all joined together to sing and listen to the work songs, the cowboy songs, blues, gospel, bluegrass, love and humor.I remember it very well and enjoyed it a lot. The songs and the music, the instruments....guitar, banjo, mandolin, fiddle, harmonica, mountain dulcimer, the jug and the washtub.

Do you remember the artists? Flatt and Scruggs; Peter, Paul and Mary; Joan Baez; Burl Ives'; the Weavers; The Kingston Trio; The Limeliters; to name just a few of the many.Then there was the M.G.M. movie, Hootenanny Hoot. I think it came out in 1964. It was a romantic comedy which starred Joby Baker, Pamela Austin, Peter Breck with lots of songs by a lot of singers such as Sheb Wooley, George Hamilton IV singing Abilene, Johnny Cash doing Frankie's Man Johnny, the Brothers Four and many others.

There were thousands of songs sung, I suppose, that were Hootenanny songs. See if you remember some of them. House of the Rising Sun, The Midnight Special, Michael Row the Boat Ashore, If I Had a Hammer, Black Is the Color of My True Love's Hair, John Henry, Hush Little Baby, This Land Is Your Land, Greenback Dollar, Tom Dooley, This Train, Shenandoah........Remember? Yep, thought you would.

Now everybody join in ......If I had a hammer,
I'd hammer in the morning..............

Sweet Memories.
***********************************
***********************************
I was in the 4th. grade in October of 1957. We had just got our first TV, a little 17 inch floor model. As the new season started, a new show made it's way to the screen. The first show was aired October 3rd. It was a situation comedy staring Walter Brennan as Grandpa Amos McCoy . NBC had turned it down and ABC had picked it up.
When it aired, the "expertts" said it would never make it. They said it would never go over in the cities. Boy, were they wrong! The Real McCoys became a giant hit and would run for six seasons. It's second season it was the number 8 program for the year in the national ratings.
It was about a happy loving family from West Virginia moving out to California headed by Grandpa Amos, played by Walter Brennan who was 63 years old when the program started.It also starred Richard Crenna as grandson Luke and Kathy Nolan as his wife Kate. And there was Little Luke, big Luke's brother, Hassie his sister and Pepino the hired hand. George MacMichael, a neighbor, was played by Andy Clyde and George's sister, Flora, was played by Madge Blake.
This was one of Daddy's favorite shows and mine too. You can be sure that when 8:30 came on Thursday nights, our little TV was tuned to The Real McCoys and our family was glued to the set. I have a number of the tapes from the show and still enjoy watching them. It was a great show when T.V. was great! --
Gene


SWEET MEMORIES.
© Copyright 2003, 2010 by Gene Minix.
All rights reserved.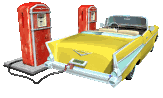 <>

GENE MINIX'S ____________________

CRUISIN' THE NOSTALGIA HIGHWAY
_______________________________

Ah, the Good Old Days........

Remember when "spinning your wheels" meant stepping on the gas and accelerating a car very rapidly. Now days it means a "dead end" job.

Remember when children didn't have 150 channels on TV, didn't have the fancy video games at all, didn't have a mobile phone, no designer clothes...but were still happy.

Remember when we had no childproof lids on medicine bottles, the cabinet doors didn't have safety locks, we rode bikes with no helmets, rode in cars with no seat belts, and played in mud puddles. We drank after each other, ate ice cream and big sandwiches drank soda pops and didn't get fat because we were always outside playing.

We could walk to a friends house in safety. The doors at home didn't have to be locked. You could walk the streets of your hometown after dark and not have to fear being robbed or attacked. If you got in trouble at school, you knew you were in even bigger trouble when you got home.

Remember when you made up your own games and constructed your own toys and had fun with them. If you got in a fight with another kid you settled it yourselves without the parents getting involved?

Remember those great Roy Rogers and Gene Autury movies and comic books. Remember what a special treat it was to go to VBS?

SWEET MEMORIES

God bless and God's best!

© Copyright 2003 - 2013, by Gene Minix.
All rights reserved.
A GENPAT production.
*****************************************
GENE MINIX'S______________

CRUISIN' THE NOSTALGIA HIGHWAY

Ah, the Good Old Days! Hop in that beautiful red '57 Corvette and lets cruise on
down the Nostalgia Highway.

Remember when gas stations gave away free maps..........and checked your oil and tires.
And washed your windshield ..............and all with a smile.


...


When you used a typewriter eraser.

Remember the Frito Bandito ?

Remember when you broke your popsicle in half to share with your sweetie?

What a great place..........Woolworth's lunch counter. Grilled cheese and those great milkshakes! Ah, I
can taste them now.

Remember when you could stack those great 45's on your player and dance or just listen to
those great songs of the 50's and 60's?

Ever have a Tom Thumb cash register?

Remember when the girls made flowers out of Kleenex and the boys judged which
was the prettiest flower ?

Remember dialing a phone with a pencil?

Where there were phone booths?

Remember wheat back pennies and walking Liberty half dollars.

When there were no seat belts?

When you could buy a hamburger for a quarter?

And speaking of hamburgers, remember Wimpy from Popeye, "I will gladly pay you Tuesday for a hamburger today".

Ah, yes! The Good Old Days for sure!
Sweet Memories!

© Copyright 2013, by Gene Minix.
All rights reserved.