A Page From Gene and Pat's
Cruisin' The Nostalgia Highway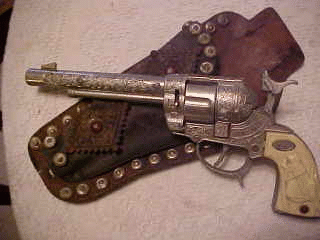 What did you do with your
Gene Autry and Roy Rogers guns?
They are worth a fortune today.
Just heard the Statler Bros. sing their great hit,
The Class of '57.
I've always liked that song. It's life.

I wasn't of the class of '57, I turned 10 years old in 1957. But I remember it very well. It was a great time to grow up. There were no shootings in school and no buildings being blown up by terroristic attacks. Times were much more innocent, or least it sure seems so. Old Glory was flying high.

The fall line up for TV would see the Westerns burst on in a giant way. Yes, there were off and running in 1957. We'd see them rule the Top 25 for a number of years. Shows like Gunsmoke, Tales of Wells Fargo, Have Gun Will Travel, The Restless Gun, The Life and Legend of Wyatt Earp, Cheyenne, Wagon Train, Sugarfoot.........ah, those were the days!

Some of the big records for 1957 included:
All Shook Up by Elvis, Pat Boone was writing Love Letters in the Sand, and Elvis was tugging at hearts with Let Me Be Your Teddy Bear. Debby Reynolds had the beautiful song, Tammy. Elvis was doing Jailhouse Rock. Sonny James did Young Love and the Everly Bros. were singing Bye Bye Love. Jimmy Rogers had the big hit, Honeycomb, Ferlin Huskey had Gone and Guy Mitchell had Singing the Blues. People were rocking to Fats Domino as he sung Blueberry Hill. The Crickets were doing That'll Be the Day and Ricky Nelson was singing Be-Bop-Baby. Danny and the Juniors were having fun At The Hop and Marty Robbins was wearing A White Sports Coat.



In 1957, you could pull into a service station and be greeted with a smile and friendly "hello" and the words, "Fill her up?" Your windshield was cleaned, tires checked, oil checked and gas pumped. Then a free gift for stopping by.

You enjoyed school lunch topped off with a bottle of milk that had a cardboard stopper. Of course, your teacher was right there at the table with her class to make sure you kept your elbow off the table. For those who had telephones, they started with a word. (like Alpine 3....).

Don't reckon we'll ever see again this nation like it was in the fifties. But for us who lived it, the memories will always be as fresh as yesterday.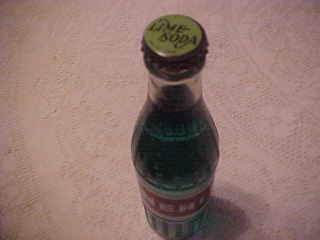 Do you remember going to the Drive-In Theater? There were many of them in the 50's and early to middle 60's. Today, few are still running. Can you name the drive-in theater that existed in your hometown?
Being able to go window shopping at night in your hometown, not having to worry about someone doing you harm or taking your wallet.
Going to the restaurant and having a hot dog and begging your parents for some change to put in the small jukebox on the wall beside your table.
And remember eating kool-aid powder with sugar.
And seemed people had more time to visit. Neighbors really knew each other and helped each other. You knew all the people in your community and just about everyone in the whole county. You even knew the names of your neighbor's children.


When you weren't watching Westerns on TV, you could tune in to Leave It To Beaver or Father Knows Best.
And a great all time favorite, The Real McCoys.
Jack Benny and Red Skelton were hits.
Remember that '57 Chev?
It was some car!
It still is!

SOME THINGS TO BE THANKFUL FOR......

Your Family

An ice cold drink on a hot day

A cup of hot chocolate or coffee on a snowy day

Getting out of bed in the morning

Holding hands with the one you love

Your automobile when you've many miles to travel

Getting to lie in bed when the soft rain is
falling on your window pane

Real friends

Having the clock go off, then realizing it is
Saturday and you can stay in bed until you want
to get up



The FREE GIFT OF SALVATION THAT GOD GIVES WHEN YOU RECEIVE HIS SON, JESUS CHRIST, AS YOUR PERSONAL SAVIOUR.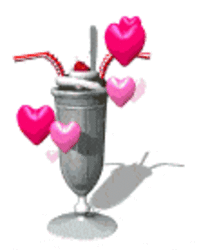 GENE MINIX'S_______________

CRUISIN' THE NOSTALGIA HIGHWAY
____________________________________


Ah, remember when bubble gum was a penny
and ice cream cones five and ten cents?
And what some great times
at the movies were spent.
Roy Rogers and all those
westerns so good!
Milking the cows and
getting in the wood.
Family and friends gathered on the porch,
children having a good time at play.
Just some of the sweet memories
from the Good Old Days!


Copyright 2004, by Gene Minix.
Al rights reserved.
~~~~~~~~~~~~~~~~~~~~~~~~~~~~~~~~~~~~~~~~~
GENE MINIX'S
CRUISIN' THE NOSTALGIA HIGHWAY
Do you remember using the outhouse? I sure do. The last one we had is still standing. Daddy built it in 1957. He built it on the side of a large gully. Don't know if that was the reason or not, but after a while the outhouse started leaning down hill. Everybody said it was going to fall right down the bank. Well, Daddy worked on it, and got it straightened up some. It still leaned a bit and does to this day, but it hasn't fallen down the bank and it's been here over 60 years now.
One thing I remember very well as a child, you made sure you didn't need to venture out after dark and you made the visit as fast as possible when the weather was cold. When the winter winds were howling, you made no unnecessary trips.
I've converted it into a place for tools and gasoline for the lawn mowers etc. But if the times should ever require it, it could be up and ready in a few minutes. I did read the other day where there are still over 700,000 homes in the U.S. with outhouses. Had no idea it was so many. Then there's the trend today to collect them. They are in great demand. Many people are restoring them as a hobby, some just for the show, some doing what I've done and using it for a tool shed. Some have been left as the "little brown shack out back" and some have bright and fancy colors and designs. I'd say there is a pretty good chance the little brown shack out back is going to be around for awhile.
--Gene

SWEET MEMORIES. God bless! © Copyright 2003 - 2019 , by Gene Minix.
All rights reserved.
~~~~~~~~~~~~~~~~~~~~~~~~~~~~~~~~~~~~~~~~~

GENE MINIX'S________________

CRUISIN' THE NOSTALGIA HIGHWAY
__________________________________________________
__________________________________________________
I've always loved writing, letters included, and I've always loved getting mail. When I was growing up, I had our mailbox full most of the time. I'd get some postal cards and answer the ads that were found in the magazines etc. Many of the addresses I copied from the National Geographic magazines at school. I'd jump off the school bus and run into the house and start writing, then watch the mailbox waiting on my treasure to arrive. I was just looking through a 1954 magazine and ran across many old ads. Let me share a few of them with you all. ----------
192 Movie, TV Radio Stars Photos. And for a limited time only one dollar. And if you order today, you'll get a big surprise gift worth 75 cents, the home addresses of 175 top Hollywood stars.Get the new "closer grooved" 78 R.P.M. records that allow you to hear 18 of the top songs of the day with stars such as Dean Martin and Arlene James. On three break-resistant vinyl records. $2.98 including postage.and what about the photo services? One company offered you 20 wallet size prints for One Dollar and 5o for Two Dollars. Just the thing for your graduation and friendship picture, it said. Nothing extra to pay and satisfaction guaranteed.And another photo company offered you a gold plated picture ring free with any photo enlarged. All this for 97 cents, postage included.And for the girls, they could wear the latest hit records in miniature. Real conservation getters. The ad said you'd get "Oh's" and "Ah's" from your admirers.
Just think...a sterling silver chain and miniature records for just $1.50.
-Gene

SWEET MEMORIES.

© Copyright 2003 - 2013 by Gene Minix.
All rights reserved.
GENPAT. A Gene Minix Production.
All rights reserved. 2000